STEELQ STAINLESS STEEL
SteelQ stainless steel has been accompanying us in the kitchen for many years as an exceptionally hygienic and adapting to the interior material. Used by Quadron SteelQ is resistant to corrosion and color stable. Steel used in the kitchen is naturally subject to the aging process, beautifully reflecting the history of use. Stainless steel can always be rejuvenated and restored to an almost original state. In addition, this is an ecological material – it can be fully recycled.

STEELQ PVD
SteelQ PVD is a steel covered with a layer of hard coating on the source material, based on crystallization. We use precisely selected steel products to apply the coating, which under high vacuum conditions are subjected to evaporation with nitrides of titanium, chromium or zirconium, binding through adhesion with the source layer. In this way, they form durable steel products with high quality coating in copper, gold or graphite. The PVD coating is much more durable than the source material, i.e. stainless steel. We can say that we are dealing with improvement of an almost perfect material, that is stainless steel.

GRANITEQ
GraniteQ sinks are made of fine granite particles (75-80%) connected with each other by a high quality binder (20-25%), thanks to which they are characterized by exceptional durability and resistance. GraniteQ is available in opalescent colors obtained thanks to metallic admixture particles. Even the most demanding users will be satisfied when the lighting over the top will make the kitchen shine with a delicate sheen of it`s new "jewelry". This effect can be increased thanks to accessories made of stainless steel in PVD technology in gold and copper. Quadron granite sinks are silky smooth and delicate to the touch, which also matters when cleaning and maintenance, but above all for their cleanliness and hygiene.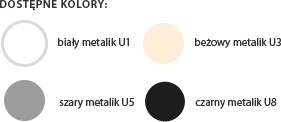 HARDQ
HardQ sinks are glass tops with steel chambers. It is a combination of two materials with excellent properties. The class of glass is stained with special ceramic paints hardening in high-temperature furnaces, melting into the surface glass pane and creating a durable surface structure. Steel chambers SteelQ or SteelQ PVD are glued with special adhesives that guarantee many years of product operation. Quadron is a brand that has the widest offer of modern glass sinks.